ICBDC 2020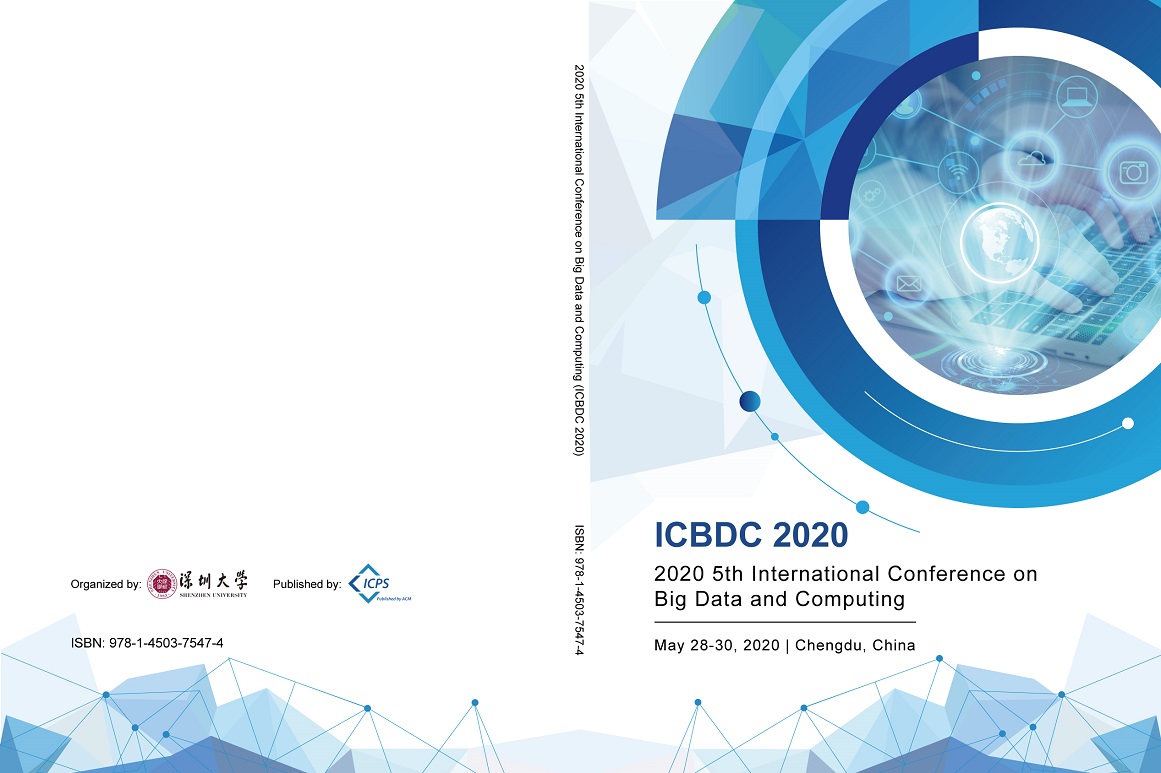 2020 5th International Conference on Big Data and Computing
May 28-30, 2020 | Chengdu, China
全球疫情下各国参会人员旅行受到限制, 会务组尝试了全新探索—— 2020年第五届大数据与计算国际会议于2020年5月28日至5月30日成功在云端会议平台顺利举办。ICBDC 2020 大会录用文章被出版至 ICBDC 2020 论文集, 由ACM 出版, ICBDC 2020论文集出版刊号是 978-1-4503-7547-4, 已由 ACM 数据库收录 , 会后4个月左右已被 EI 核心检索 和被Scopus检索。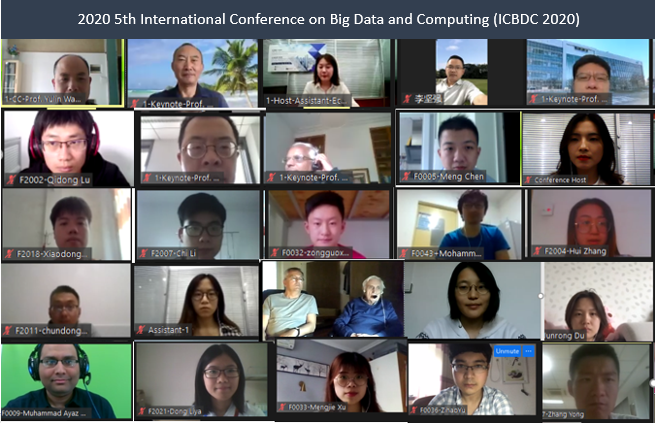 Opening Remarks by Prof. Yulin Wang,
Wuhan University, China

Prof. Rajkumar Buyya,
University of Melbourne, Australia

Prof. Changsheng Xu,
Chinese Academy of Sciences, China
Prof. Hong Shen,
Sun Yat-sen University, China

Prof. Ruidong Li, National Institute of Information
and Communications Technology, Japan

Prof. Zoran Bojkovic & Dr. Dragorad Milovanovic, University of Belgrade, Serbia
Parallel Sessions
Excellent Oral Presentation Winners of ICBDC 2020
Electrical Resistance Tomographic Image Enhancement using MRNSD and LSQR

Presenter: Nasif Raza Jaffri, North China Electric Power University Beijing, China
LiDAR-Stereo: Dense Depth Estimation from Sparse LiDAR and Stereo Images

Presenter: Chi Li, Huazhong University of Science and Technology, China
Research on the Big Data Platform and Its Key Technologies for the Railway Locomotive System

Presenter: Xin Li, China Academy of Railway Sciences, China
Learning Trajectory Routing with Graph Neural Networks
Presenter: Zihao Yu, Beijing Jiaotong University, China

Keynote Speakers of ICBDC 2020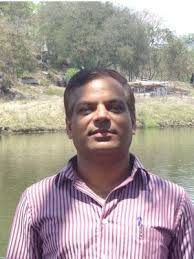 Prof. Rajkumar Buyya, The University of Melbourne, Australia
IEEE Fellow, Redmond Barry Distinguished Professor, CEO of Manjrasoft
Dr. Rajkumar Buyya  is a Redmond Barry Distinguished Professor and Director of the Cloud Computing and Distributed Systems (CLOUDS) Laboratory at the University of Melbourne, Australia. He is also serving as the founding CEO of Manjrasoft, a spin-off company of the University, commercializing its innovations in Cloud Computing. He has authored over 650 publications and seven text books including "Mastering Cloud Computing" published by McGraw Hill, China Machine Press, and Morgan Kaufmann for Indian, Chinese and international markets respectively. Dr. Buyya is one of the highly cited authors in computer science and software engineering worldwide (h-index=134, g-index=280, 95,700+ citations). "A Scientometric Analysis of Cloud Computing Literature" by German scientists ranked Dr. Buyya as the World's Top-Cited (#1) Author and the World's Most-Productive (#1) Author in Cloud Computing. He is recognised as Web of Science "Highly Cited Researcher" for four consecutive years since 2016. Dr. Buyya is recognized as Scopus Researcher of the Year 2017 with Excellence in Innovative Research Award by Elsevier; "Lifetime Achievement Awards" from two Indian universities, and the "Best of the World", in Computing Systems field, by The Australian 2019 Research Review.
Software technologies for Grid, Cloud, and Fog computing developed under Dr.Buyya's leadership have gained rapid acceptance and are in use at several academic institutions and commercial enterprises in 40 countries around the world. Dr. Buyya has led the establishment and development of key community activities, including serving as foundation Chair of the IEEE Technical Committee on Scalable Computing and five IEEE/ACM conferences. These contributions and international research leadership of Dr. Buyya are recognized through the award of "2009 IEEE Medal for Excellence in Scalable Computing" from the IEEE Computer Society TCSC. Manjrasoft's Aneka Cloud technology developed under his leadership has received "Frost & Sullivan New Product Innovation Award". He served as founding Editor-in-Chief of the IEEE Transactions on Cloud Computing. He is currently serving as Editor-in-Chief of Software: Practice and Experience, a long standing journal in the field established ~50 years ago. For further information on Dr. Buyya, please visit his cyberhome: www.buyya.com
Title: New Frontiers in Cloud and Edge/Fog Computing for Big Data & Internet-of-Things Applications
Abstract: Computing is being transformed to a model consisting of services that are delivered in a manner similar to utilities such as water, electricity, gas, and telephony. In such a model, users access services based on their requirements without regard to where the services are hosted or how they are delivered. Cloud computing paradigm has turned this vision of "computing utilities" into a reality. It offers infrastructure, platform, and software as services, which are made available to consumers as subscription-oriented services. Cloud application platforms need to offer (1) APIs and tools for rapid creation of elastic applications and (2) a runtime system for deployment of applications on geographically distributed computing infrastructure in a seamless manner.
The Internet of Things (IoT) paradigm enables seamless integration of cyber-and-physical worlds and opening up opportunities for creating new class of applications for domains such as smart cities. The emerging Fog computing paradigm is extends Cloud computing model to edge resources for latency sensitive IoT applications.
This keynote presentation will cover (a) 21st century vision of computing and identifies various IT paradigms promising to deliver the vision of computing utilities; (b) innovative architecture
for creating elastic Clouds integrating edge resources and managed Clouds, (c) Aneka, a Cloud Application Platform, for rapid development of Cloud/Big Data applications and their deployment on private/public Clouds with resource provisioning driven by SLAs, (d) a novel FogBus software framework with Blockchain-based data-integrity management for facilitating end-to-end IoT-Fog(Edge)-Cloud integration for execution of sensitive IoT applications, (e) experimental results on deploying Cloud and Big Data/Internet-of-Things (IoT) applications in engineering, and health care, satellite image processing, and smart cities on elastic Clouds; and (f) directions for delivering our 21st century vision along with pathways for future research in Cloud and Edge/Fog computing.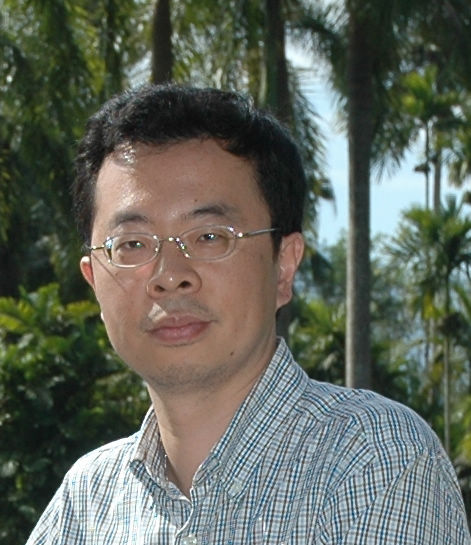 Prof. Changsheng Xu, Chinese Academy of Sciences, China
ACM Distinguished Scientist, IEEE Fellow, and IAPR Fellow
Dr. Xu  is a Professor in National Lab of Pattern Recognition, Institute of Automation, Chinese Academy of Sciences and Executive Director of China-Singapore Institute of Digital Media. His research interests include multimedia content analysis/indexing/retrieval, pattern recognition and computer vision. He has hold 30 granted/pending patents and published over 200 refereed research papers in these areas. Dr. Xu is an Associate Editor of IEEE Trans. on Multimedia, ACM Trans. on Multimedia Computing, Communications and Applications and ACM/Springer Multimedia Systems Journal. He received the Best Associate Editor Award of ACM Trans. on Multimedia Computing, Communications and Applications in 2012 and the Best Editorial Member Award of ACM/Springer Multimedia Systems Journal in 2008. He served as Program Chair of ACM Multimedia 2009. He has served as associate editor, guest editor, general chair, program chair, area/track chair, special session organizer, session chair and TPC member for over 20 IEEE and ACM prestigious multimedia journals, conferences and workshops. He is an ACM Distinguished Scientist, IEEE Fellow, and IAPR Fellow. 
More information: http://www.nlpr.ia.ac.cn/mmc/homepage/csxu.html
Title: Connecting Isolated Social Multimedia Big Data
Abstract: The explosion of social media has led to various Online Social Networking (OSN) services. Today's typical netizens are using a multitude of OSN services. Exploring the user-contributed cross-OSN heterogeneous data is critical to connect between the separated data islands and facilitate value mining from big social multimedia. From the perspective of data fusion, understanding the association among cross-OSN data is fundamental to advanced social media analysis and applications. From the perspective of user modeling, exploiting the available user data on different OSNs contributes to an integrated online user profile and thus improved customized social media services. This talk will introduce a user-centric research paradigm for cross-OSN mining and applications and some pilot works along two basic tasks: (1) From users: cross-OSN association mining and (2) For users: cross-OSN user modeling.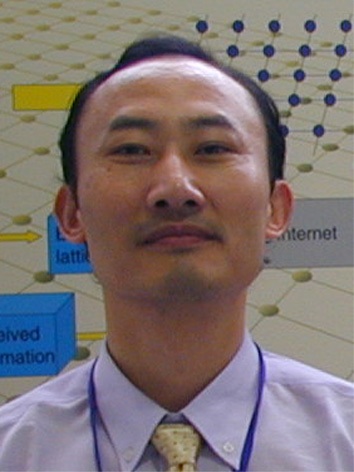 Prof. Hong Shen (沈鸿教授)
Sun Yat-sen University, China
Dr. Hong Shen is a specially-appointed Professor in Sun Yat-sen University where he was the foundation Director of Institute for Advanced Computing. With main research interests in parallel and distributed computing, algorithms, data mining, privacy preserving computing, wireless and optical networks, he has led numerous research centers and projects in different countries. He has published 400+ papers including over 100 papers in major international journals such as a variety of IEEE and ACM transactions. Prof. Shen has received many honours and awards including China National Endowed Expert, Chinese Academy of Sciences "Hundred Talents", Ministry of Education Science and Technology Progress Award, and Chinese Academy of Sciences Natural Sciences Award. He is a member of Executive Board of IEEE Technical Committee for Parallel Processing (TCPP), and has served on the editorial boards of numerous journals and chaired many conferences.
Title: Job Scheduling in Cloud Data Centers
Abstract: Driven by the booming demands of applications, advanced computing in cloud data centers is evolving to be a major paradigm of high-performance computing for data processing and analysis. A data center is composed of a massive number of servers connected by an interconnection network, and multiple geographically dispersed data centers are connected by a dedicated center network of ultra-high bandwidth. Access to data centers from office and personal computing devices is provided through an edge network in a cloud environment that supports ubiquitous on-demand submission of client jobs in addition to data collection, local processing and outsourcing. Job scheduling in a cloud data center is critical for improving the service capability of the data center in terms of reducing operation cost and increasing profit. This talk addresses job scheduling in cloud data centers for minimizing operation cost and maximizing profit in the levels of data center and servers respectively. I will first overview some recent developments in cloud data centers. Then, I will discuss cloud data center job scheduling in the data center level with the focus on minimizing energy cost which is the dominating factor in a data center's operation cost, and show our recent work on workload scheduling in data centers with multi-source energy supply under the given green degree constraint (carbon emission cap) for environment protection. Next, I will move down to the severs level and present our recent work on solving the bounded flexible scheduling problem to schedule jobs with bounded deadlines and parallelism degrees on a given set of cloud data center servers. Finally I will conclude the talk by showing some of our on-going projects and future work in this direction.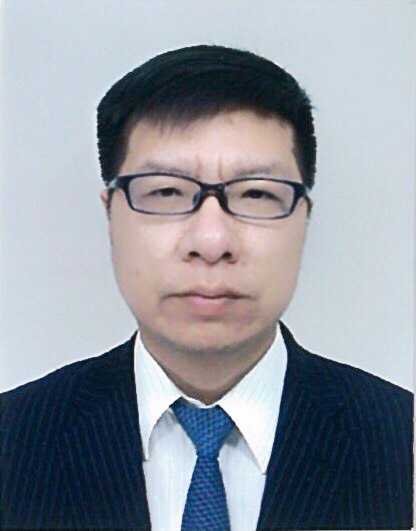 Prof. Ruidong Li, National Institute of Information and Communications Technology, Japan
Ruidong Li received a bachelor in engineering from the Department of Information Science & Electronic Engineering, Zhejiang University, Zhejiang, China, in 2001. He received a master and doctorate of engineering from the University of Tsukuba, respectively, both in computer science. Dr. Li currently is a senior researcher at National Institute of Information and Communications Technology (NICT), Tokyo. He belongs to the Network Science and Convergence Device Lab of Network System Research Institute of NICT. He was a member of the AKARI Architecture Design Project for New Generation Networks, the Japanese national project for developing the future networks.
He is involved in the design, implementation, evaluation, and optimization of future network architecture. He is the chair of IEEE SIG on Big Data Intelligent Networking and the co-chair of young research group for Aisa future internet forum. His current research interests include future networks, Internet of things, big data networking, network security, edge computing, information-centric network, artificial intelligence, cyber-physical system, naming and addressing schemes, name resolution systems, and wireless networks. He has been visiting scholar in University of Göttingen (2016), Temple University (2016), University of Alabama (2017), and UCLA (2017).
Title: Blockchain Meets In-Network Big Data Sharing
Abstract: Huge amount of big data raise a strong demand for a network infrastructure with the capability to support data sharing and retrieval securely and efficiently. Information-centric networking (ICN) is an emerging architecture with the support of pervasive in-network caching, which makes the data life-cycle management be difficult. On the other hand, Blockchain is a distributed ledger, characterized by immutability, anonymity and auditability without requiring trust third party, which needs efficient data dissemination. In this talk, we focus on the cross area between the emerging network technology, ICN, and the blockchain technology. For the blockchain for ICN, we propose a blockchain-based data life cycle protection framework (BDLP) to design transactions and smart contracts to establish a trustworthy environment for data management in ICN. For the blockchain with ICN, we employ ICN approach to design a decentralized information-centric blockchain network (DIBN), where categories are named to enable the traffic to be decentralized and an any-to-all category dissemination structure (CDS) is established among all the blockchain nodes (BNs) for data dissemination.